The last week of August is here already so get your whites out before they go out of fashion (done this mean I need to drop my gain after labor day?). If you're feeling that pre long weekend prostration the POCUS posse is here to help you power(doppler) through.
The Case
Our case of the week features a 63M admitted in the setting of coronary ischemia. Despite the customary high volume fluid loading, he develops progressive AKI and a rising lactate. Surely the answer is more fluids, right? Have a look at the EKG and clips below and see if there may be a better way.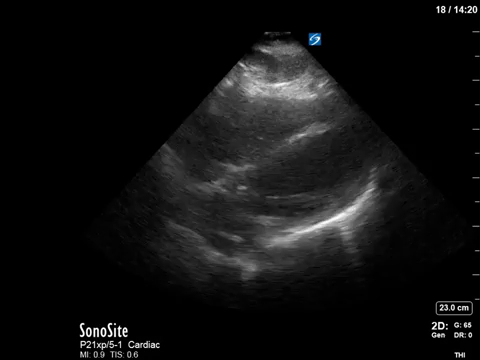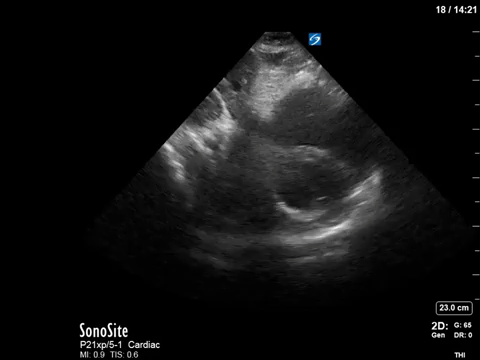 COTG
Our COTG features a puzzling piece of POCUS perfection. A 63F on long term IHD presents to the emergency with SOB and DLOC. Unfortunately, she goes PEA during ETI so CPR is started ASAP. Following ROSC, we perform a TEE for  HypoTN NYD. There's a lot going on so I'll try to guide you guys with some questions:
What do you think of her cardiac output (her LVOT D was 1.83 and HR 65bpm)
What do you think of her LV? Look like anything you may have with you off the coast of Japan?
Working our way up, how's that MV looking? How would grade the degree of stenosis? Hint hint, there may be more than one way to skin this cat with quite varied results!
Have a look upstream from the MV and let us know if anything hinky is happening.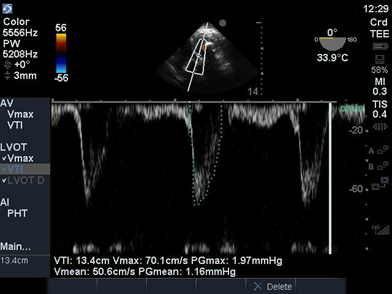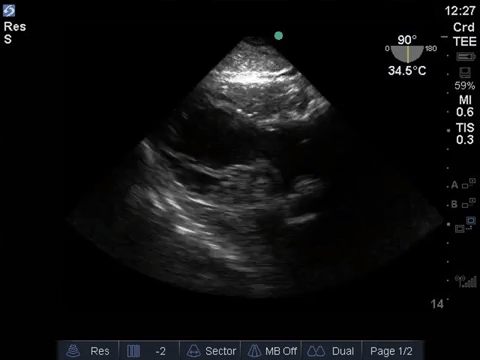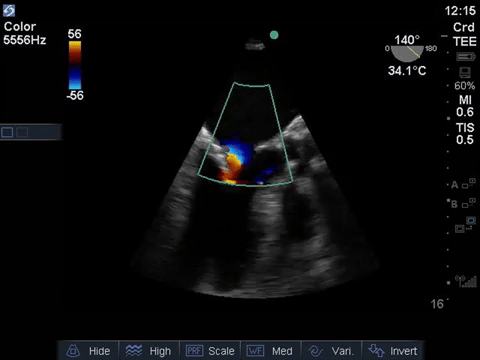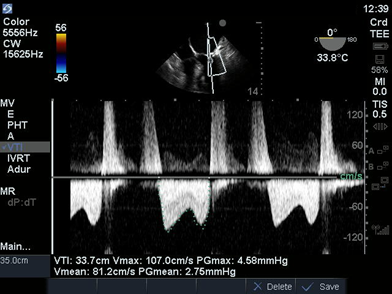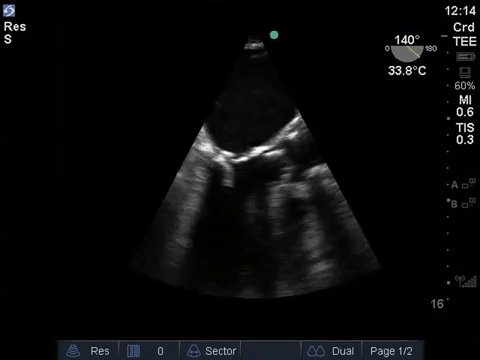 Answer to Last Weeks Case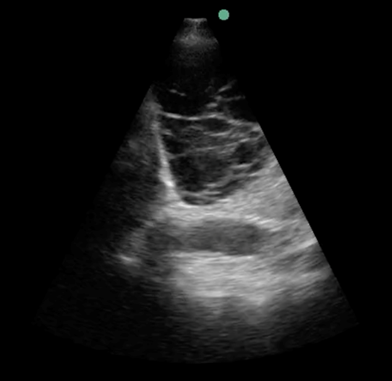 The most striking finding is without a doubt the mess of webs Spiderman has left in this poor woman's pleura (I jest, we all know Spiderman would never do such a thing). The high degree of fibrin stranding seen is consistent with a very complex/loculated effusion. A more subtle finding is seen towards the end of the clip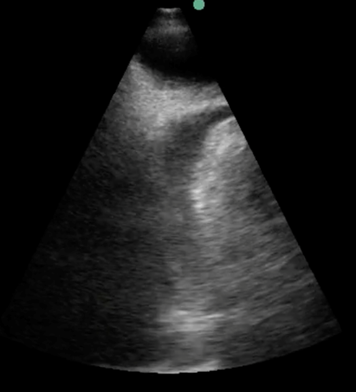 There is a moderate to large pericardial effusion present as well. A significant pericardial effusion adjacent to a complex pleural effusion is cause for concern and requires further evaluation. Causes to look for include malignant effusion (as was the case here), infectious (TB or Pneumococcus if your patient doesn't believe in antibiotics), rheumatic and other inflammatory infrequent obscurities. Also, a pericardial effusion adjacent to an inflammatory pleural effusion raises the risk of complicated pericardial effusion and, with it, the risk of tamponade, all good reasons to give this a closer look.
Answer to Last Weeks COTG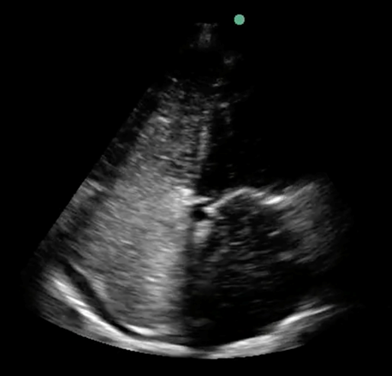 The clip shows a bubble study. 1mL of air is mixed with 9mL of saline via 3 way stop-cock and the whole thing is agitated then injected into the patient (agitated saline filled with microbubbles). This results in an echo bright contrast appearing in the right atrium and right ventricle. Normally, the only communication between the right and left circulations is through the lungs, which will filter out the microbubbles. However, in the setting of a right to left shunt in the heart, microbubbles will be shunted to the left heart within the first 3-5 beats of arriving in the right atrium. If there is a pulmonary right to left shunt (e.g. in the setting of an AVM, hepatopulmonary syndrome, etc.) the microbubbles will again appear into the left heart but this will take 5 to 10 beats since they are taking the scenic route through the pulmonary vessels. In this patient who just suffered a stroke, this suggest the possibility of paradoxical embolism (although a right to left intracardiac shunt isn't sufficient for this diagnosis on it's own). For more info on agitated saline contrast for detecting PFO check out the attached article.
Side-note, agitated saline is also useful for confirming central line placement within the venous circulation (ruling out arterial placement) and pretty much anytime you want contrast on the venous side. It is generally avoided once you know there is a significant right to left shunt (as in congenital cardiac patients) given the risk of systemic embolism and stroke.
Protocol for Optimal Detection and Exclusion of a Patent Foramen Ovale U…