Happy Monday A-line Aficionados,
The best week of the year is finally here, CRUS week! It's time to see old friends, share some laughs and rediscover the pleasure of finding the costodiaphragmatic angle in healthy volunteers. But for now, lube up it's COTW time!
The Case
Our COTW case comes from ED POCUS Pro Pedagogue Drew Thompson. It features a young gentleman with testicular cancer and a history of pulmonary embolism. They say a picture is worth a thousand words, so here's the clip and I'll shut up now: What's your differential?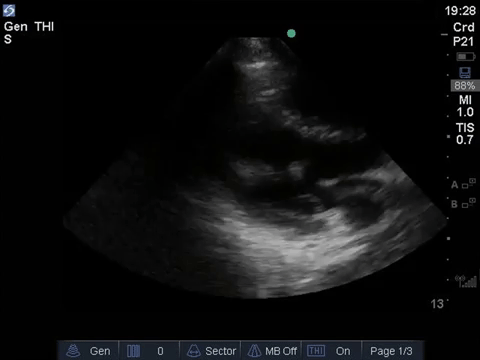 COTG
This week's COTG features a patient with profound hypoxemia following a sub-arachnoid hemorrhage. A TEE is performed to help guide ventilation strategy. Here is a still of a Pulse wave doppler through the pulmonary artery. Again, here's a picture, in a 1000 words or less, what is going on?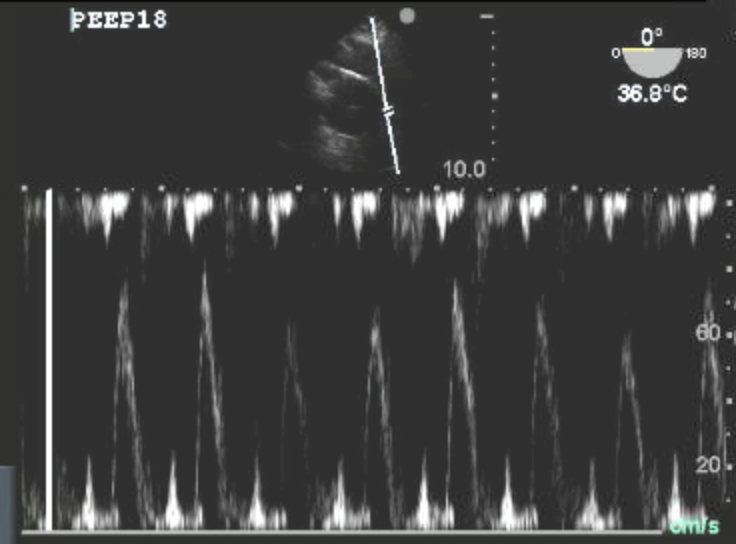 Answer to Last Weeks Case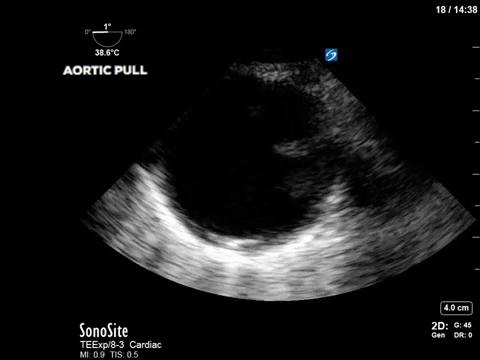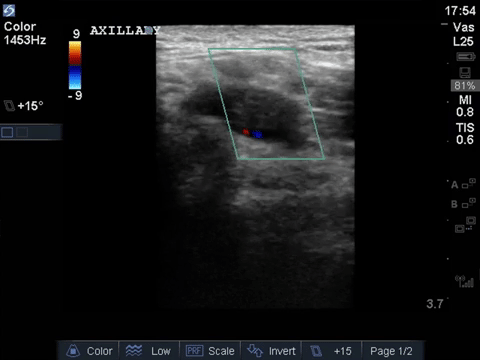 The first clip showed visible thrombus in the axillary artery with lack of color doppler flow with the second showing a peducunlated, mobile aortic thrombus. If you put 2 and 2 together (or just the 2 images above I guess, so 1 and 1?) it seems fairly evident that this gentleman is suffering from systemic thromboembolism in the setting of mobile aortic thrombus. Google tells me I should be worried about this in my cat. In people, complex aortic atherosclerosis (defined as plaque thickness >4mm or mobile segments as above) is detected in 10-20 percent of patients presenting with stroke or peripheral embolism. Optimal management isn't clear but generally includes single antiplatelet agent + lipid lowering therapy (with consideration for dual anti platelet therapy or anticoagulation). For a more thorough review of the use of echo in the patient with systemic embolism, see the attached text.
Answer to Last Weeks COTG
That kidney ain't right. Firstly, it's yuge, not fitting into the screen (it was measured at 15.5cm, but I didn't want to make it too easy for you guys). Also, it has a grossly edematous appearance with thickened cortex a barely discernible sinus. Lastly, it is mildly hyperechoic. This constellation of findings suggests an inflammatory or infiltrative cause of AKI such has AIN, GN, MM and other assorted acronyms. In our patient's case, biopsy showed this to be MPGN (or membranoproliferative glomerulonephritis) related to his SA IE (ok, I'll stop with the acronyms). Trump's golden staph strikes again, this time by mediating an immunological attack on this guy's pee makers. For further reading on the use of US in the Ddx of AKI (sorry), follow the link below.
See you all this week
Dany B
Bonus Content
2016_Cardiac-Source-of-Embolism
https://www.ncbi.nlm.nih.gov/pmc/articles/PMC3913238/