Hello again people's republic of POCUS,
It's already time to get your final sun fix before the fall comes. Yes, the seasons are about to change once more. And, sadly, much like sunny days of summer, my time as your POCUS prefect and as the geek who brought you the case of the week is coming to an end. I want to thank you all for the privilege of being your purveyor of peculiar pocus pictures and for particularly for putting up with the plethora of puerile puns over the past period. Katie Wiskar will be stepping in as POCUS fellow and I hope you'll all join me in wishing her the grandest of times amongst the pocus patrons. On to the clips!
The Case
A 60 year old gentleman with a recent stay for respiratory failure/COPD/CHF/Moderate aortic stenosis (oh just admit you don't know what's going on) is readmitted for a recurrent we don't know what's going on, once again respiratory in nature. He is afebrile with modest white count and negative cultures so far. Whenever I want to know the happening (not the Mark Wahlberg movie, that was horrible), I turn to POCUS and it turns the unknown into the just bizarre.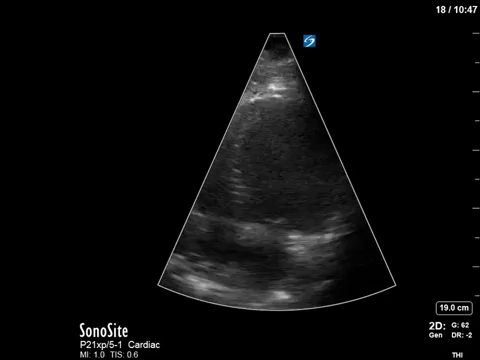 COTG
A 29 year old female is in the unit for traumatic brain injury. The EVD reads an ICP of 50 but bedside TCD performed by your boss suggests a normal ICP so the EVD is D/c and the patient weaned from sedation. You are called the following day because she has blown a pupil. What are you going to tell your boss?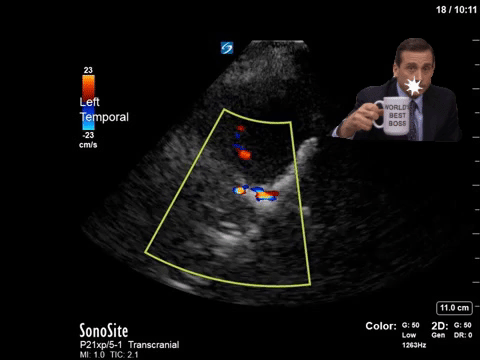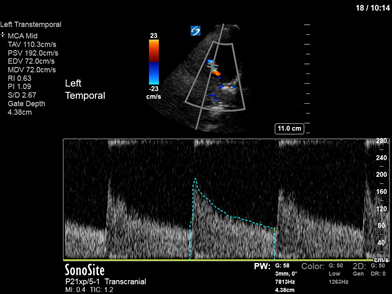 Answer to Last Weeks Case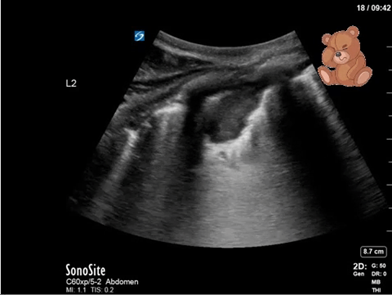 Those of you who've followed the COTW this summer will recognize this subpleural hypoechogenicity as being an embolus, a septic embolus having now progressed to a subpleural abscess most likely given it's size and the history of right sided endocarditis. Unfortunately, our friend Staphylococcus trumpus is rather difficult to eradicate (just ask Dr Mueller) and pulmonary abscesses like these may progress despite adequate microbiological coverage. These subpleural abscesses may also rupture leading to empyema as seen below.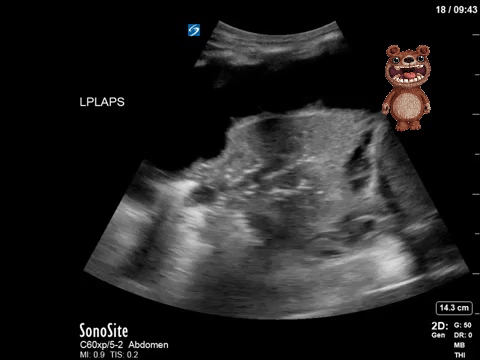 Answer to Last Weeks COTG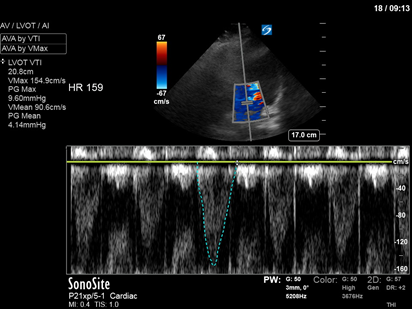 The mathletes amongst you who were bold enough to assume her LVOT diameter was 2cm (which we do commonly when it cannot be measured given that it is the average size in hoomans) will have worked out her stroke volume to be 65mL/b and her CO to be a whopping 10.4L/min. Clearly measures aimed at increasing CO are not required here (so no fluids or inotropes). How you manage this will depend on the clinical situation, a low BP will indicate a poor SVR and require pressors. An inappropriately high sympathetic tone will respond to analgesia if caused by pain, and if intrinsic, possibly with betablockers (see attached text).
Effect of Heart Rate Control With Esmolol on Hemodynamic and Clinical Ou…