Before we get to this week's clip, I'd like to offer a brief congratulations to everyone who has completed the first step of their royal college examinations – including both of our current rotators Alice and Fu.
This week we have some ED-POCUS team curated content. Not sure who took the clip, but thanks ED team!
The Case:
A 42M (was probably just minding his own business) when he was stabbed in the right flank. He presented to a peripheral hospital where he had a FAST scan that was reported as POSITIVE by the community physician.
Following transfer to LHSC, his repeat FAST was reported as INDETERMINATE. He had a chest tube placed for right-sided hemothorax, and ++ blood returned.  Re-do FAST at that point looked like this:  (This is a view of the right kidney) – What would you say?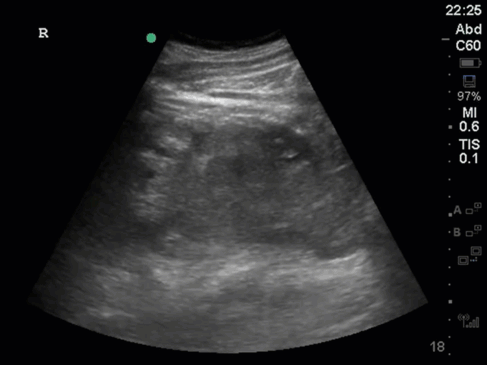 Answer from Last Week: 
March 19th our clip came from a 22M PWID with tricuspid valve endocarditis. This is a view of the thorax/lung taken from the left anterior axillary line with a phased array probe.  We can see here the first bright line – the pleura, flanked on either side by rib shadow. The predominant lung artifact here is A-lines (normal aeration). Lung sliding is apparent on the left side of the pleura, but what about the right? This is an excellent demonstration of "Lung-Point" Specific to rule-in pneumothorax in this case.  The patient had a chest tube placed for improvement in oxygenation.

COTG: 
This 70M admitted with respiratory distress had apparently normal LV function based on POCUS – but what about his diastolic function?? The first still image here is PW Doppler from the mitral valve inflow, obtained by placing the PW sample volume in the LV between the mitral valve leaflets at the end of diastole. This generates an E and A wave.  In the second image, we have acquired tissue Doppler information from the septal mitral valve annulus. This generates an e' and can be done using either the septal or lateral valve annulus.  Estimation of left atrial pressure can be done by taking the E/e' ratio:  If the E/e' (average) is >14, E/e' (septal) >15, or E/e' (lateral) >12 the left atrial pressure (LAP) is >15mmHg.
If you have trouble obtaining these measurements or if they are indeterminate, don't despair – look at the lung ultrasound findings! A normal aeration pattern (A-lines) indicates that the pulmonary artery occlusion pressure (PAOP) is <18mmHg. So normal aeration will effectively rule out significant elevations in left atrial pressure.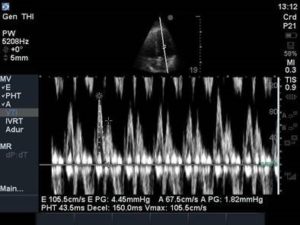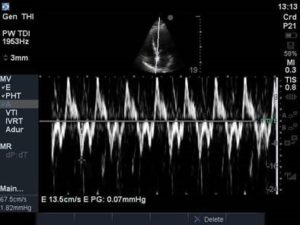 For your reading pleasure, find attached a recently published CHEST article entitled "Evaluation of Left Ventricular Diastolic Function by the Intensivist" which covers this topic in much more detail:
http://journal.chestnet.org/article/S0012-3692(17)33045-3/pdf 
We already have some COTW contenders for next week, but if you have a great scan please email (Rebecca.Rondinelli@lhsc.on.ca), it might be next weeks champ.