This is it – My last COTW. Next week Dany Burke, and later Katie Wiskar will take over the COTWs, and though the writing may change the awesome sonography will stay the same!!
Writing these COTWs and showing off all of the great scans that we do here at Western has been one of the highlights of my year. Luckily I can still enjoy them while on the receiving end of these incredible POCUS case emails!
The Case: 
A man is admitted to ICU on post-op day 6 with shock following a nephrectomy for renal cell carcinoma.  POCUS abdomen was performed to assess for free fluid, and an abnormality was noted prompting a more detailed assessment.  What are we looking at in this clip? What abnormalities are present? (Hint, this is in the RUQ)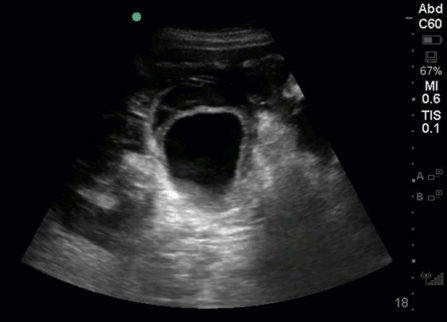 Answer from Last Week: 
Last week we reviewed the case of a female patient with known severe aortic stenosis and shock. This image isn't labelled, but we can see that it was taken with an abdominal/curvilinear probe at 18cm depth, and center screen there is an anechoic space with a layering of isoechoic/mixed density deeper within. Speaking with the sonographer at the bedside, this did not seem to be in the typical location of the stomach, and it extended from LUQ down to LLQ while scanning. The team elected to pursue CT to assess for hemorrhage given the patient was on IV heparin, and the study confirmed their suspicion that this was a large hematoma with active extravasation leading to hemorrhagic shock. Of note, within this collection, we see the 'hematocrit' sign. Hematocrit sign can be seen in any fluid collection where gravity brings the heavier cellular elements to the dependent region, in this case there is layering of old blood/clot vs. fresh blood.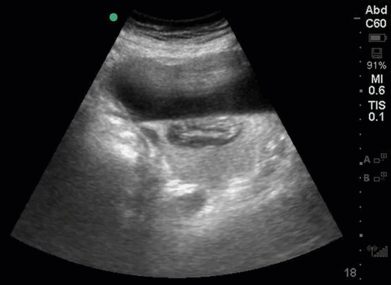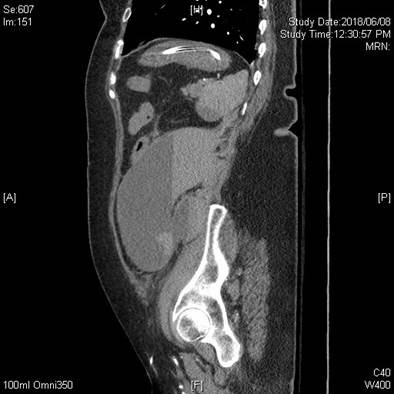 Thanks to everyone for submitting scans, reading the emails, and asking questions to keep me on my toes this year as the POCUS fellow! See you at CRUS, and I'm always available via email/social media.
Hailey Hobbs for the POCUS team 🙂