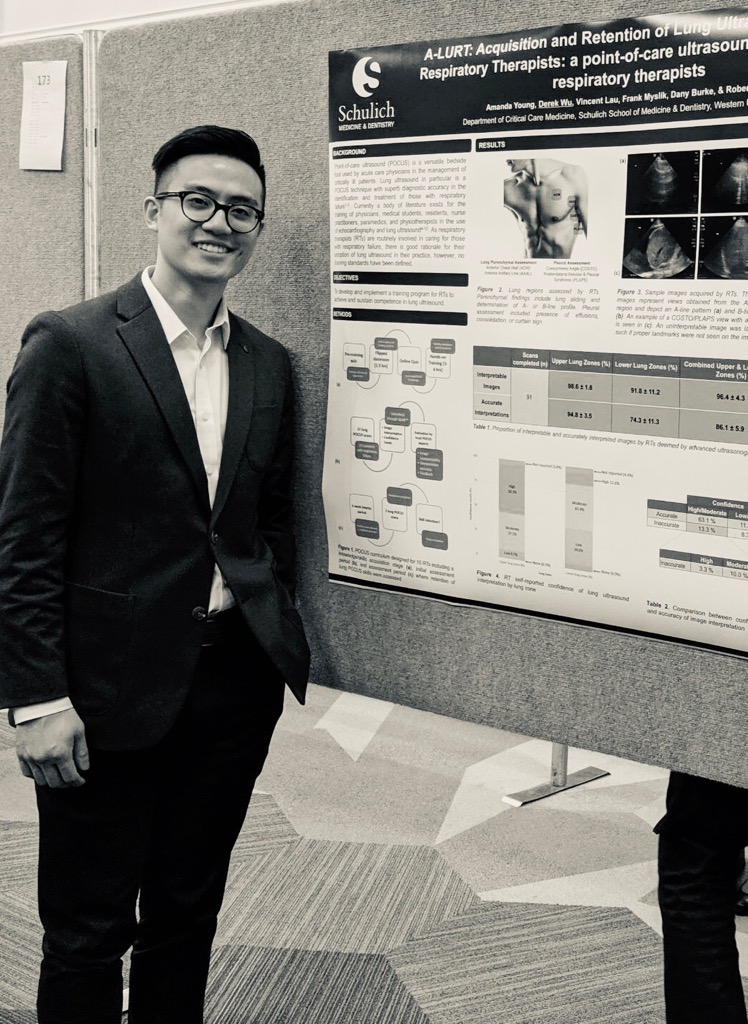 The Day
Last Friday I had the amazing opportunity to present our work at the Department of Medicine Resident Research Day (take a deep breath before saying this one out loud): Acquisition and Retention of Lung Ultrasound Skills by Respiratory Therapists: a point-of-care ultrasound curriculum for respiratory therapists (and breathe). Although complimentary meals are usually enough to get hungry medical students out to any event, this research day was filled with talks and interesting research topics that rivaled the charcuterie board. Dr. Erin Spicer's talk on QI methodology and Dr. Christopher McIntyre's keynote on the salient points of research gave good insight for young researchers.
The Project
The A-LURT project was a formative experience for me in ultrasound education and research. The enthusiasm from our 10 respiratory therapists (RTs) during the in-person training sessions and clinical musings seen on their written reports were inspiring to see. With more physicians incorporating point-of-care ultrasound (POCUS) in their practice, equipping RTs with the knowledge and skills to facilitate more informed discussions around patient management was a meaningful project for me to contribute to in the areas of patient safety and care. Our RTs impressed us with their amazing ability to capture and interpret lung ultrasound images (96.4% interpretable images deemed by advanced ultrasonographer, 86.1% accurate interpretations of their images). We are hoping they will continue to wow us during the 6 week follow up for skill and knowledge retention. Throughout the project I was involved in curriculum development and hands-on teaching. I was even humbled by a request to run one of the in-person training sessions by myself. As someone interested in the application of ultrasound in acute care medicine, the experience of this project will certainly shape the decisions I make for future practice and education.
The People
It goes without saying that the posse I am grateful to be called a part of were instrumental in this experience. The RTs are a vibrant group who are an endless source of curiosity and skill. Dr. Amanda Young, critical care fellow and first author on this fine work, has taught me much about ultrasound, medicine as a career, and arguably most importantly, the top places to hit up during my March Break getaway to Seattle. Dr.'s Frank Myslik and Vince Lau were our in-house expert ultrasonographers who diligently assessed the scans done by the RTs. Dr. Myslik and I met during my advanced interviewing course last year and has been a great mentor who enlisted me in other ultrasound heroics (see: biliary ultrasound POCUS project). Dr. Lau is a young charismatic critical care physician who drops golden nuggets of advice on me from time to time and represents a glimpse of what the future holds. And of course Dr. Rob Arntfield who enlisted me onto the Westernsono team and has since given me several fulfilling opportunities to help prove to myself what exactly I can do with my future. He even lent me one of his VScans early on for me to discover the addicting nature of ultrasound myself (there is a 'first day of school'-esque picture of me holding this machine somewhere). Thanks team!
Special thanks to Dr. Ian Ball and Dr. Tao Rui who were my judges on Research Day. Our poster won Best Poster in the PhD/MSc/MD Student category (but the real prize is the BBQ we get to attend)